Probiotics have taken the world by storm! In this article, I want to share 12 beauty benefits of kefir, one of the most popular and powerful probiotic-rich foods! So read on!
What is kefir? If you've recently joined the world of probiotics and cultured foods, then you might still be trying to fathom what it is and how it came about! Well, the answer is no one knows for sure how those cauliflower-like substances (kefir grains) came into existence… Mysterious, isn't it?!
Kefir grains originate from the Caucasus Mountains of Eastern Europe, where people have been using them to make a powerful fermented yogurt-like drink. But kefir is much more beneficial than yogurt! And what's more is that it is 100% lactose free, meaning those with lactose intolerance can drink it with absolutely no problems! This is because all the lactose is consumed by the grains in the fermentation process.
What makes up kefir grains is multiple strains of GOOD bacteria that colonize the gut, repopulating it with more good bacteria that it needs to heal and function optimally. Remember the saying, 'All diseases come from the gut'? Yeah, that's why it's super important for your gut to be in tip-top shape!
There are two types of kefir: milk kefir and water kefir. Some health conscious people prefer water kefir but the truth is that there's nothing unhealthy about milk kefir. It's not that water kefir is healthier than milk kefir. In fact, milk kefir is more beneficial and contains more strains of good bacteria than water kefir! So if you're debating on what kind of kefir to try first, I recommend milk kefir. I mean, if you want results fast you got to go for the best choice right?
In this post, I'll be sharing the beauty benefits of kefir, milk kefir in particular, for skin, hair & more!
How Much Kefir to Take Daily
The only downside to kefir might be the tart fizzy taste that takes getting used to for some people, plus the fermentation time, which may be 12-24 hours, depending on the climate of your location. You can drink kefir straight up or have fun & make it more palatable by making a kefir fruit smoothie which is simply delicious! To make a kefir fruit smoothie, add 1 ripe banana, 1 handful of ripe strawberries, ¾ cup of kefir and ¼ cup of milk or water into a high speed blender. Blend till smooth then drink up!
If you're a beginner, start by taking ½ cup of kefir every day. Some say it's best taken on an empty stomach. But I say you can take it any time of the day and still get the benefits! After 3 weeks, you may increase the intake to 1 cup of kefir every day!
12 Beauty Benefits of Kefir for Skin, Hair & More
Below are 12 extraordinary beauty benefits of kefir for your skin, hair & more!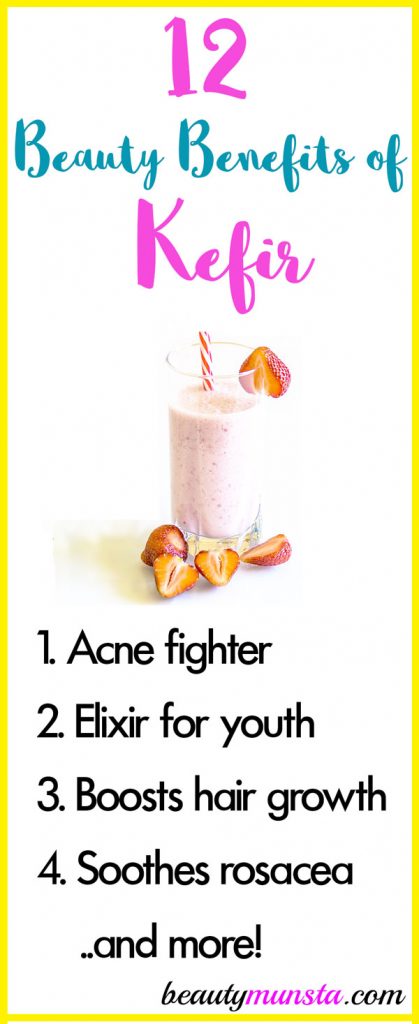 1. Reduces Acne
When nothing seems to be helping your acne, turn to kefir! You know that acne in mostly caused by toxins & wastes breaking out of the skin, right? Drinking kefir promotes good digestion as well as breakdown & elimination of toxins & wastes which clears up acne from the inside! You can also apply kefir on your face! This works because the good bacteria eat up the bad acne-causing bacteria on your skin. It also soothes acne inflammation and redness! This study shows the link between probiotics and clearer skin in acne & rosacea patients. Follow the link to read more!
Anti-Acne Mask: Into a small bowl, add 1 tsp kefir and 1 tsp raw honey. Mix them both up and apply it on your face, avoiding the eyes. Leave it on for 10 minutes then rinse off with tepid water. Tone your face with this Rose Water Glycerin Spray.
2. Elixir for Youth
Make your best kept secret to youthful skin kefir! Probiotics do so much for timeless skin & good health that keeps you looking younger than you really are! Consume kefir as your elixir of youth every day without fail and trust me, you'll see its anti-aging effects and be in awe!
3. Skin Exfoliator
Kefir contains lactic acid, an Alpha Hydroxy Acid which is a well known skin exfoliator. Apply a kefir face mask to gently but surely slough off dead cells from your face. You can mix it with lemon for more exfoliating effects. Here's the recipe:
Exfoliating Face Mask: In a bowl, add 1 tsp kefir, ½ tsp fresh lemon juice and 1 tsp colloidal oatmeal. Next add 2 drops of tea tree essential oil. Mix everything up and apply it to your face, avoiding the eyes. After 10 minutes, rinse it off with tepid water.
4. Boost Hair Growth
Kefir for hair growth? Yes, it works! By cleansing the scalp, soothing scalp inflammation & fighting dandruff, kefir boosts healthy hair growth. You may consume it regularly and also try a kefir hair mask!
Kefir Hair Mask for Hair Growth: Into a blender, crack an egg and add 1 tbsp kefir. Blend for a few seconds then pour it into a bowl. Stir in 5 drops of lavender essential oil. Now apply this onto your scalp then cover your hair with a shower cap. After one hour, rinse your hair thoroughly with tepid to cold water. There's no need for shampooing but if you prefer to, then go ahead. You can then use an ACV hair rinse as a conditioner by combining 1 tbsp of apple cider vinegar in 3 cups of water and pouring it over your hair.
5. Reduces Eczema & Psoriasis
There are many success stories of people drinking kefir and it dramatically decreased their eczema and psoriasis patches. It also minimizes the frequency of outbreaks!
5. Softens Rough Skin
As mentioned above, kefir is exfoliating. It removes the outer hard dead cells on the skins surface, revealing softer skin underneath! Add 1 cup of kefir mixed with 10 drops of lavender essential oil into your bath for baby soft skin!
6. Heals Dry Skin
If you have dry flaky skin, consume kefir regularly and apply it on your face as a mask. Also put it in your bath for moisturized supple skin!
7. Aids in Weight Loss
A beautiful body is something many of us crave. In addition to working out, also drink kefir or incorporate it in your healthy diet to lose pounds and become slimmer, fitter and more youthful!
8. Makes Skin Supple & Smooth
If you're one of those people with perpetually dry and flaky skin, please use kefir topically as a face mask! It'll transform your skin into soft smooth suppleness in no time! Make sure to combine it with lemon juice or apple cider vinegar for extra skin smoothness!
9. Soothes Rosacea
Want to see your red blotchy skin reduce fast? Try a kefir face mask! It really helps reduce rosacea inflammation and combats the excess demodex mites that are causing it. Here's a kefir face mask for rosacea:
Kefir Mask for Rosacea: Combine 1 tsp kefir, 1 tsp manuka honey, ½ tsp colloidal oatmeal and 1 drop tea tree essential oil in a bowl. Apply it onto your whole face, avoiding the eyes. After 7 minutes, rinse off with tepid water. Soothe and tone your skin afterwards by spraying organic rose water on it. Finally, use this Rosacea Face Cream for moisturization.
10. Balances Skin pH
Slathering kefir on your face helps regulate the acid/alkaline balance (skin pH) of your skin! This is good for keeping skin healthy as well as minimizing irritation, redness and other skin problems.
11. Treats Dandruff

Plagued by dandruff? One of the major causes of dandruff is a yeast called Malasezzia. If it increases due to many factors including over consumption of sugar and yeasty foods, dandruff can become an issue. Drinking kefir helps fight fungus and yeast overgrowth. You can also apply it on your hair as a hair mask to fight dandruff from the outside!
12. Fights Fungal Infections

If you're suffering from nail fungus or fungal skin infections, then incorporate kefir in your diet. It helps fight off fungus & yeast overgrowth!

Experience the above 10 extraordinary beauty benefits of kefir by consuming it and using it topically!