Have you heard of tomato seed oil? And more specifically the beauty benefits of tomato seed oil?! Discover them in the article below!
Tomato seed oil is unknown to most people but it is an incredible carrier oil for your skin and hair! It is cold pressed from tomato seeds and has a deep orange color and tangy tomato scent to it!
Before we move on to look at the beauty benefits of tomato seed oil, here is its ingredient profile to help you get to know more about this amazing oil:
Tomato Seed Oil Ingredient Profile
♥ Scientific Name:
Solanum lycopersicum
♥ Origin:
Tomatoes were first cultivated by the Aztecs and Incas as early as 700 AD
♥ Color and Smell:
Tomato seed oil has a color that ranges from deep orange to reddish to brown. It has a strong tangy tomato scent.
♥ Texture:
Tomato seed oil has a semi-thick texture but it penetrates into skin easily.
♥ Shelf Life:
2 years (longer if kept refrigerated)
♥ Comedeogenic Rating:
2
♥ Precaution & Tips
Before use, do a patch test on your inner elbow/wrist to see that tomato seed oil does not irritate your skin.
Refrigerate the oil to lengthen its shelf life.
Composition of Tomato Seed Oil
Tomato seed oil contains a wealth of nutrients including antioxidants, sterols, essential fatty acids, vitamins and minerals. Some of them include:
Alpha linoleic acid
Linoleic acid
Oleic acid
Palmitic acid
Stearic acid
Vitamin A
Lycopene isomers
Lutein
Beta-carotene
Vitamin E
11 Beauty Benefits of Tomato Seed Oil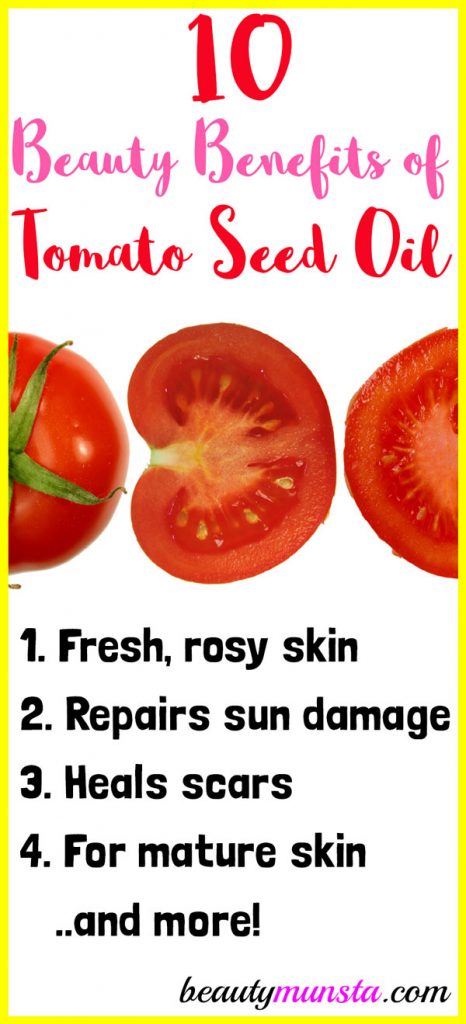 Below are 11 beauty benefits of tomato seed oil for skin, hair and more!
1. Fresh Rosy Skin
One of the best beauty benefits of tomato seed oil is definitely its ability to make skin fresh, rosy and glowing! This is because it's rich in carotenoids, phytosterols and antioxidants! It also has a content of 55% linoleic acid. Linoleic acid makes sebum high quality: light and non-sticky, so it doesn't clog pores and make skin greasy. It'll leave your skin glowing instead!
2. Heals Scars
Tomato seed oil contains alpha-tocopherol and gamma-tocopherol, both of which are Vitamin E compounds. Vitamin E is a powerful antioxidant that promotes quick healing of scars. You can add a few drops of tomato seed oil to your daily face cream to help fade away acne scars fast!
3. For Mature Skin
Tomato seed oil is LOADED with antioxidants! It contains Vitamin E as mentioned above, and also carotenoids like lycopene isomers, lutein and beta-carotene. All these are powerful antioxidants which deflect free radicals that are known to cause premature aging. By using tomato seed oil on your face, you can smooth out deep wrinkles, fine lines and also age spots!
4. Repairs Sun Damaged Skin
Tomato seed oil is good for repairing sun damaged skin. Tomatoes themselves are good for reducing sun tan and making skin that's dulled down by the sun bright and glowing again! Lightly apply tomato seed oil on sun damaged skin or skin that looks dull and aged to repair it! You can apply it underneath your makeup or at night time before bed.
5. Strengthens Hair Strands
Got dry brittle hair or weak strands? It's time to try tomato seed oil! You can add a few drops of it to your shampoo or conditioner. Another way is to mix it up with essential oils like sweet orange, basil, vetiver or grapefruit for more hair strengthening properties and also to improve its scent.
6. Helps Clear Cellulite
Cellulite is characterized by dips and dimples on the skin, especially the skin on the thighs, butt and arms. A good way to reduce cellulite is by massaging the area with carrier oils such as tomato seed oil, which is purported to clear off cellulite.
7. Reduces Stretch Marks
Another beauty benefit of tomato seed oil is that it reduces stretch marks when applied consistently. You can make a stretch mark reducing cream by blending together ½ cup shea butter, 2 tbsp tomato seed oil and 20 drops of lavender essential oil. Apply twice a day to help fade away stretch marks.
8. Calms Eczema, Psoriasis & Inflammation
Tomato seed oil can also be applied to soothe eczema, psoriasis and any kind of skin inflammation because of its strong anti-inflammatory properties.
9. Moisturizes Chapped Lips
The semi-thick luxurious consistency of tomato seed oil makes it a good moisturize for chapped lips! Gently smooth a drop of tomato seed oil onto your dry and painful lips!
10. Treats Acne
Acne prone skin needs all the antioxidants it can get. And what do you know?! Tomato seed oil is full of them! It also has anti-inflammatory properties that calm acne inflammation, reducing the appearance of acne on your skin.
11. Good for Dry Cracked Skin
Last but not least, tomato seed oil is good for moisturizing dry cracked skin. It has a semi-thick consistency that nourishes and lubricates dry skin. Its texture is in such a way that it won't leave your face greasy because it sinks into skin well!
Where to Buy Tomato Seed Oil
Always look for 100% pure quality tomato seed oil without additives. I love Botanical Beauty's 100% Pure Natural Unrefined Cold Pressed Tomato Seed Oil. It comes in a 2 oz amber glass dropper bottle.
How are you planning on using tomato seed oil in your natural beauty journey? Share with us below!