More recently has argan oil shot up in the hair care world, rivalling the star coconut oil. More and more people are asking the question – What's better: argan oil or coconut oil for hair growth? In this post, we breakdown the benefits, properties and uses of both oils for hair growth. With this, we shall discover what oil is the ultimate one for hair growth in particular!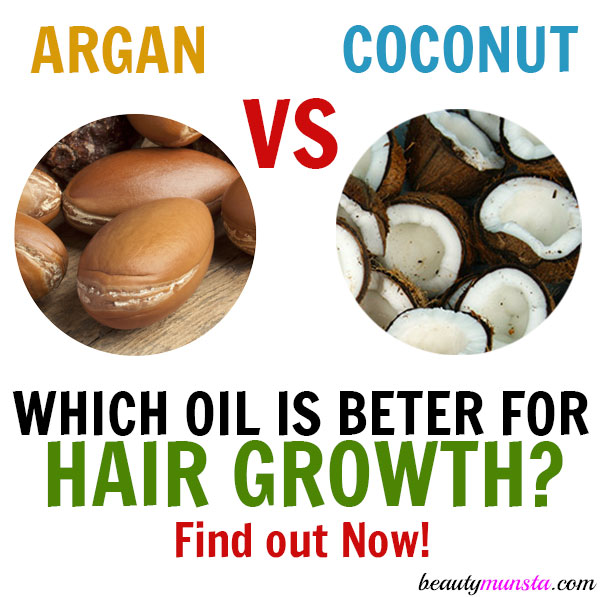 Argan Oil Nutrients & Properties
Argan oil is extracted manually by hand from argan nuts of the Argan trees found only in Morocco. It has been used for centuries by Moroccan people for cooking as well as skin and hair care. This exquisite oil is rare and has amazing beauty benefits. You can read more about its beauty benefits here.
The nutrients in argan oil and their benefits for hair include:
Oleic acid (42.8%) – Highly moisturizing, oleic acid lubricates dry hair and locks moisture into it. It is also incredibly repairing for dry damaged strands.
Linoleic acid (36.8%) – Stimulates hair growth, controls water loss, nourishes and protects the scalp from inflammation, irritation and fungal infections.
Vitamin E – Argan oil is super rich in vitamin E, which is considered as the skin and hair vitamin. It protects hair from free radicals, strengthens the hair strands and seals moisture into them.
Ferulic acid – This is the main phenolic compound in argan oil. It is a powerful antioxidant that protects hair strands from free radicals and the damaging effects of UV rays, which lead to hair damage, hair loss and premature graying of hair.
Carotenoids – These nourish hair, repair damage and protect it from free radicals and UV radiation.
Plant sterols – These substances reduce inflammation, increase moisture retention, and protect collagen, which are all good for maintaining good hair health.
Coconut Oil Nutrients & Properties
Coconut oil has been long used in South East Asia and the Philippines as a food staple and for skin and hair care as well. Its popularity shot up in the Western world recently and it is being touted as a superfood and remedy for practically every ailment out there.
Ancient Ayurvedic texts recommend coconut oil as the top oil for hair growth. It has been mentioned as a base oil in many herbal hair growth treatment recipes.
Some of the nutrients in coconut oil include:
Lauric acid – Has a high affinity for hair proteins, which strengthens hair strands and prevents moisture loss from them. It is highly moisturizing and penetrates deep into the hair strands.
Iron – Good for promoting healthy and thicker hair growth.
Capric, caprylic, stearic and mystiric acids – Bind to hair proteins, strengthen hair strands, nourish the hair follicles and speed up the rate at which hair grows.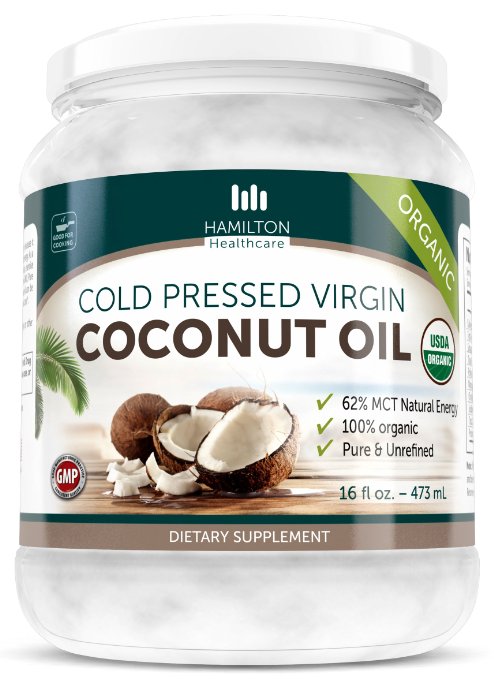 What Makes Argan Oil Unique for Hair Growth?
Argan oil has more antioxidants than coconut oil, especially vitamin E. The vitamin E content in argan oil far surpasses that of coconut oil. Vitamin E keeps hair moisturized, damage-free and shiny. It also speeds up the rate at which cells regenerate which accelerates hair growth.
What Makes Coconut Oil Unique for Hair Growth?
Coconut oil prevents protein loss from the hair strands. When applied before washing your hair, it penetrates the strands and prevents water from entering them and causing them to swell up which makes hair brittle, weak and fall off easily.
Since long ago, Indian women have been doing a pre-hair wash ritual of first massaging their scalp and hair with coconut oil before washing it and this helps prevent hair breakage and hair loss.
Coconut oil also has antibacterial and antifungal properties that keep the scalp healthy and free from inflammation. This fosters growth of new hairs while strengthening existing ones.
The Final Verdict – Argan Oil Vs. Coconut Oil for Hair Growth
To promote longer and thicker hair, coconut oil should be your go-to oil. Massage it on your scalp, do hot oil treatments with it and make hair growth serums with it. It will boost your hair growth by miles.
On the other hand, argan oil is also good for hair growth but it is more suited to promoting hair shine, conditioning hair, making hair silky and soft, promoting healthy hair strands and ends and facilitating easy detangling.
So coconut oil is better than argan oil for hair growth!