Salves are amazing skin healing preparations you can craft in the comfort of your own kitchen. Most salves can be used to soothe and treat a variety of skin problems from pesky bug bites to itchy eczema.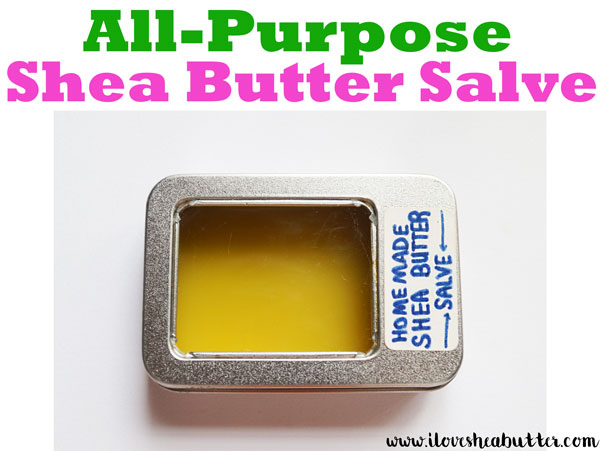 Homemade salves are usually made with beeswax (or candelilla wax for vegans), plant oils – particularly herb-infused oils – and shea/cocoa/mango butters. These ingredients are the ones responsible for giving the salve its thicker and harder consistency compared to a lotion or cream. The main use of a salve is to heal skin and wounds while a lotion or cream is majorly used for moisturizing purposes.
This shea butter salve recipe is very easy and contains ingredients that are easily available. Try it out and you'll be so pleased that you'll carry small tins of it in your purse everywhere with you!
Homemade Shea Butter Salve Recipe
Ingredients
Method
First prepare your calendula-infused oil by packing a handful or two of dried calendula flower petals in a mason jar. Now pour olive oil into the jar so that it fully submerges the flower petals. Leave it on a sunny window sill for 2 weeks – this ensures it will get enough sunlight to help with the natural infusion process. If you want a quicker method of oil infusion, place ½ cup of olive oil in a small pan over a low flame. Before it reaches smoking point, add the dry calendula flowers, stir well and heat it over low for a few minutes. Do not let the oils get to boiling point – we only need a gentle heat. Now leave the mixture to infuse up to the point it completely cools down to room temperature, then use the oil for the shea butter salve.
Add the shea butter and beeswax to a double boiler to gently melt them.
Then remove from heat and add the calendula-infused oil as well as the lavender and chamomile oils. And stir quickly with a chopstick or popsicle stick and pour the oil into a salve tin or clean glass jar to set.
Leave it for about 30 minutes for it to set completely.
Uses of this Shea Butter Salve
Slather a generous amount of this salve on:
Itchy skin
Irritated skin/rashes
Bug bites
Eczema
Psoriasis
Chapped lips
Dry skin
Small cuts and scrapes
Rough elbows/knees
Cuticle cream
First degree burns
Yeast infections
Cold sores
Chaffed skin
Bumpy skin smoother
Notes
→ Instead of infusing calendula flowers, you can use any other herb you have on hand: rosemary, basil, plantain, comfrey, chamomile, lemon balm and even rose petals can be used. Just make sure they're fully dry without a drop of water because water will spoil your salve in a very short while yet salves are supposed to last years without going bad.
→ Use a glass jar when pouring your warm salve because plastic will melt.
→ You can skip the lavender and chamomile oils but these have potent healing properties. You may also substitute them for whatever other oils you prefer: tea tree and frankincense are other good options.
→ Store your ready-made shea butter salve in a clean dry place, away from direct sunlight.