There are several ways to make body lotion at home. In this article, we want to show you how to make body lotion with glycerin. Read on to find out!
This winter, everyone is stocking up on conventional body lotions and creams. But why don't you try making your own body lotion instead?! It's very satisfying to make your own skin care products because you know exactly what's in them! Store bought lotions contain a slew of artificial ingredients including fragrance and preservatives. We're sure you totally don't want that kind of stuff on your skin, especially the face which is very sensitive!
The body lotion recipe we're sharing today contains glycerin as the main ingredient. Glycerin, also known as vegetable glycerin/glycerol, is naturally derived from plant oils like soy oil, palm oil or coconut oil. It is a clear odorless liquid which is a natural humectant. This means it draws moisture from the surroundings. Humectants are important in skin care because they seal moisture into the epidermal layer of skin. This keeps our skin cells hydrated and healthy!
How to Make Body Lotion with Glycerin
The recipe below makes 3 cups of lotion! You will need about three 8 oz containers, or six 4 oz containers.
It's best to use an immersion blender which helps combine all ingredients beautifully without separation. But you can also use a hand mixer or even a high speed blender (for this, first pour the oil mixture into the blender and while running it on the lowest setting, slowly pour the water mixture through the open end of the blender until everything combines to form a white cream).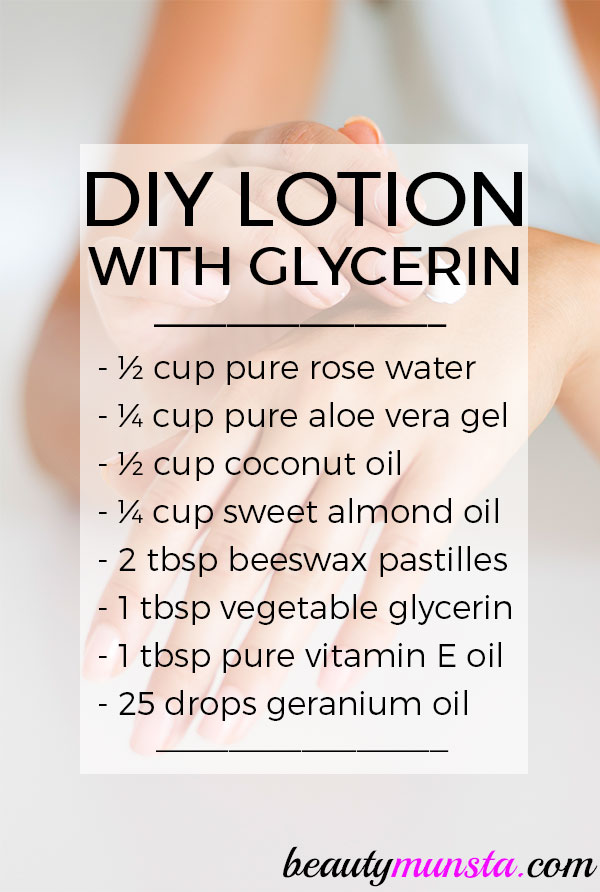 What you Need
Directions
Melt the beeswax and coconut oil in a double boiler together with sweet almond oil. You can make your own double boiler by placing a pot filled with 2 inches of water on a stove. Next, place a heat-safe bowl over the pot. Into the heat-safe bowl, add the ingredients and turn on the stove on medium low heat.
Once all the ingredients melt, turn off the heat and set it aside for 10 minutes. It should become warm, no longer hot.
Meanwhile, mix the aloe vera gel and rose water in a pot and heat on medium low on the stove until it's warm. It should be about the same temperature as the melted beeswax/oil mixture.
Now pour both ingredients into bowl and start mixing it using an emulsion blender until you see an emulsion (white creamy mixture) forming.
Add the vegetable glycerin and vitamin E oil and continue blending till everything is thoroughly combined. It can take 10 minutes to get everything to combine evenly.
Finally, add your desired amount of essential oil of your choice and blend again to distribute it.
Pour your readymade lotion into storage containers and allow it to set to a creamy form.
Store in a cool dry place and enjoy within 6 months! Keep your lotion away from tap water and contaminants!
We hope you learned how to make body lotion with glycerin! Please try this recipe out and come share your thoughts!