Then you definitely should make this DIY sugar scrub for ingrown hair to finally prevent and eliminate those black dots marring your skin!
Many people are plagued by ingrown hairs. Especially those who shave their skin. Ingrown hairs are those annoying curly hairs stuck under the skin. They destroy a flawless appearance and can even get infected with pus!
Thankfully, there's a very cheap and effective remedy to help get rid of ingrown hairs and prevent them in the future. It's a homemade remedy that's incredibly easy to concoct in your own kitchen! The best part? You only need 3 ingredients: the other two (essential oils) being optional.
We shall be using brown sugar, which is the exfoliating ingredient that sloughs off dead skin. Then jojoba oil is the liquid ingredient to combine all other ingredients together. It is also moisturizing and anti-inflammatory. Liquid honey is nourishing and skin softening. Tea tree and lavender essential oils fight off bacteria and keep skin fresh, clean and smelling good.
Now that we know the purpose of each ingredient, let's get onto the recipe now!
DIY Sugar Scrub for Ingrown Hair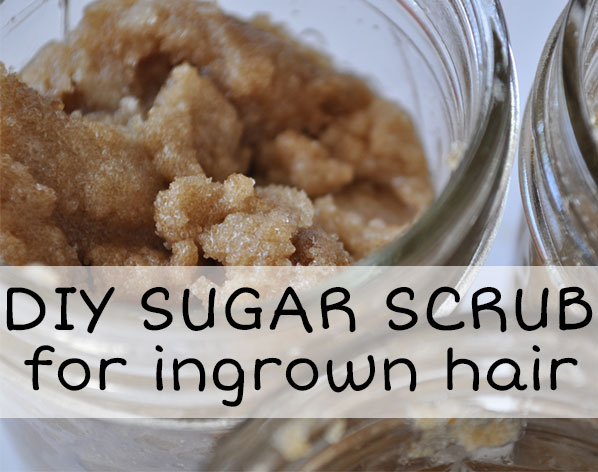 What you Need
Directions
Simply dump your brown sugar into the wide mouth glass jar.
Now add the jojoba oil and liquid honey then mix everything together to form a scrub.
Add the tea tree and lavender essential oils carefully, drop by drop.
Voila! Enjoy your DIY Sugar Scrub for Ingrown Hair! Store it in the refrigerator so that it lasts long.
To use, scoop up a little with dry fingers (use a spoon if necessary) then scrub on wet skin in the shower before shaving. Or, simply add 1-2 tbsp into a bowl then take it to the shower with you. Make sure to keep water out of your scrub so it doesn't spoil quickly.
Use regularly in the shower to reduce and prevent ingrown hairs.