Here's my favorite DIY rosemary sugar scrub recipe! It smells so refreshing, soothes a tired body and refreshes the mind!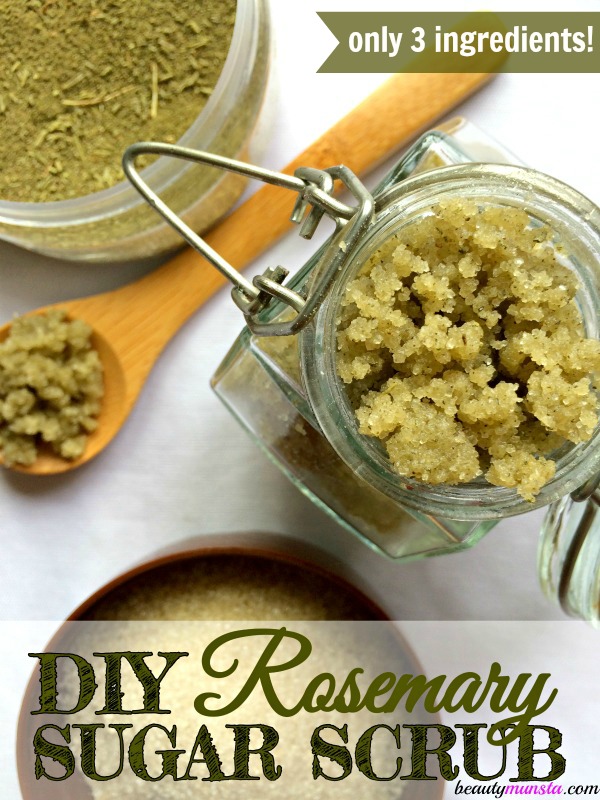 Sugar scrubs are amazing ways to show your beautiful skin some TLC! The rosemary sugar scrub recipe I'm sharing with you today is one of my first sugar scrub recipes ever and I'm not lying when I say that it is INCREDIBLY luxurious! I chose rosemary because it has a beautiful fresh scent, stimulates blood circulation in the body, rejuvenates the mind and boosts memory as well! Yes, the scent of rosemary actually has aroma therapeutic properties of increasing mental clarity and improving memory!
Rosemary is an herb that was revered since Ancient Greek times for its mind clarifying and memory improving properties. As such, Greek students used to hand rosemary garlands in their study rooms to enable them improve concentration and enhance memory. Combining rosemary in this sugar scrub makes it an ideal shower product before going for an exam or if you simply want to refresh your mind! Another great benefit of rosemary is that it relieves congestion and puffiness as well as reduces cellulite.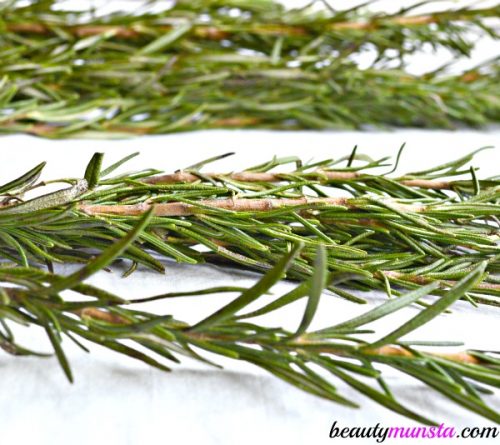 For the base oil, I used coconut oil because it has good antibacterial properties and nourishing fatty acids that keep skin clean as well as soft, smooth and supple. Personally, coconut oil is the best base oil to use for all sugar scrubs because it absorbs right into the skin without leaving an oily feel, since it has a small molecular structure that easily penetrates into the skin pores. Need another reason to use coconut oil? IT SMELLS AMAZING! Remember to buy the organic extra virgin cold pressed coconut oil (link for where to buy added below) not only because of its high nutrient factor and minimal processing but also because of the pure delicious coconutty aroma!
What Does a Sugar Scrub Do?
Use regular granulated white sugar for its slight abrasive texture that scrounges off dead cells, grime, dirt, pollution and stale sebum on the skin surface and deep within the pores. Regular white sugar is so gentle that it can be used for the most sensitive of skin types. However, if you want more exfoliating action, feel free to use raw turbinado for its more gritty texture, which when combined with the moisturizing effects of coconut oil, provides a deep cleansing & exfoliating sugar scrub.
Note: To make the dried rosemary powder, I simply placed some dried rosemary in a spice/coffee grinder and powdered it for about 3 minutes. Your rosemary powder doesn't need to be very fine but just enough to mix well into the sugar scrub. Powdering the rosemary also releases more of this herb's invigorating aroma, making your scrub perfectly scented! If you don't want the hassle of grinding the rosemary, I've provided a link for where to buy ready-made rosemary powder!
DIY Rosemary Sugar Scrub Recipe

Ingredients
Directions
In a large bowl, place ½ cup white sugar then start adding the coconut oil a little by little while stirring with a spoon until you get a desired consistency. I liked a more solid consistency, as you can see in the pictures, which made it easier and non-messier to use in the shower, as well as provided more exfoliating action.
After adding the coconut oil, add the dried rosemary powder and stir again until everything is well-incorporated.
It's ready! Your rosemary sugar scrub will turn slightly green and start exuding that aroma therapeutic refreshing herb smell!
Scoop the mixture into a cute swing top jar (like mine) and store in a cool dry place.
To use, place about 1-2 tbsp into a bowl and take it to the shower with you. Wet your skin then rub the scrub on your whole body, concentrating on cellulite-prone areas such as the thighs and butt. It lasts about 1-2 weeks at room temperature. If you're making a bigger batch, then you might want to store it in the refrigerator.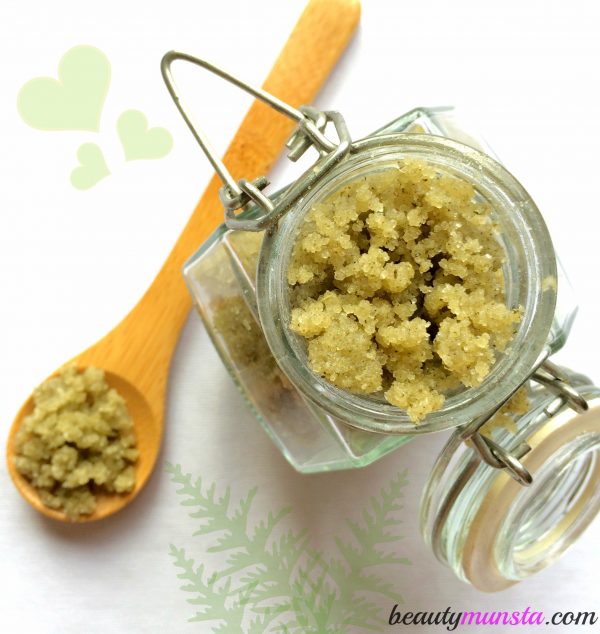 My Tips
♥ Instead of coconut oil, try using any liquid carrier oil of choice, including olive, sweet almond, jojoba, grapeseed or apricot kernel oils.
♥ If you don't have the time to powder the dried rosemary, you can just use it as it is, although it might leave a mess in your shower.
♥ Use this rosemary sugar scrub on areas where skin is puffy and has cellulite to get rid of water-retention and promote smooth skin.
♥ This rosemary sugar scrub recipe can be used to make the perfect gift for a friend, your mother or relative! Place it into a cute swing top glass jar, tie a ribbon and stick a cute label on it to make it look attractive.