People love pumpable lotions. It's so easy to just pump a little amount instead of having to dig your fingers into a jar. So that's why I decided to share an easy DIY pumpable homemade body lotion recipe!
I noticed that people who make their own pumpable homemade body lotions use oatmeal water as the liquid ingredient. But this is so wrong. Oatmeal water can make your lotion grow mold so fast that you'll have to throw it away ASAP. All that hard work gone to the bin! That's sad news!
In this lotion recipe, I'll be using an organic hydrosol that is very pure and won't spoil your lotion. Before we look at the DIY pumpable lotion recipe, let me first go through the ingredients we shall be using and their benefits:
♥ Rose water – This is the liquid ingredient for your lotion to be a pumpable lotion. It's also skin soothing and cooling for a fresh lotion!
♥ Almond oil – This oil is moisturizing without being greasy.
♥ Coconut oil – A creamy oil, coconut oil easily penetrates into skin and moisturizes it.
♥ Beeswax pastilles – Thickens the lotion and makes it more solid so it isn't runny.
♥ Raw honey – This is the emulsifier that combines all the ingredients together. It's also nourishing and medicinal so it's good for skin!
♥ Essential oil – Gives the lotion a gorgeous scent! It also has antimicrobial properties to protect the lotion from germs. Essential oils also have their own skin saving properties! For a body lotion, I recommend you add lavender oil, geranium oil, ylang ylang oil, frankincense oil or jasmine oil. They all smell fantastic, I tell ya!
DIY Pumpable Homemade Body Lotion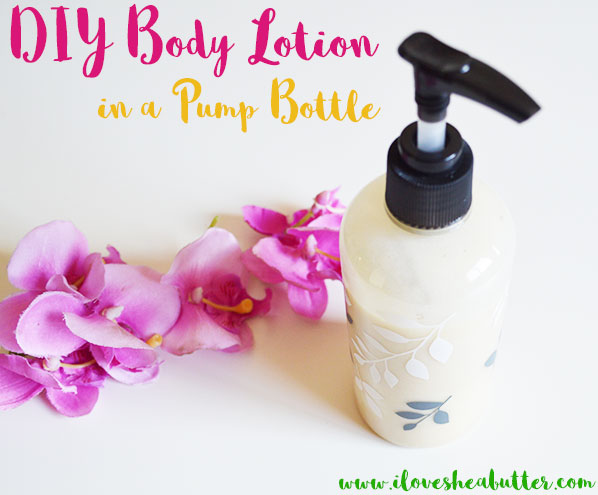 What you need
Directions
Begin by melting the beeswax pastilles, shea butter, coconut oil and sweet almond oil in a double boiler.
Once melted, pour it into the blender.
Heat your rose water till warm. Don't overheat just let it become warm.
Now start blending the warm contents of the blender at a medium setting.
While the blender is blending away, through the open end of your blender slowly pour in the warm rose water.
Once all the rose water is poured, immediately add the raw honey. You'll see a white creamy emulsion being formed.
Blend on high for a few seconds then stop.
Pour the creamy white lotion into your pump bottle using a funnel.
Add the essential oil drops then stir well using a chopstick.
Your DIY pumpable homemade body lotion is ready! Store in a cool dry place.
Enjoy ~