You won't touch it if you know the dangers of eating rancid flaxseeds and flaxseed oil.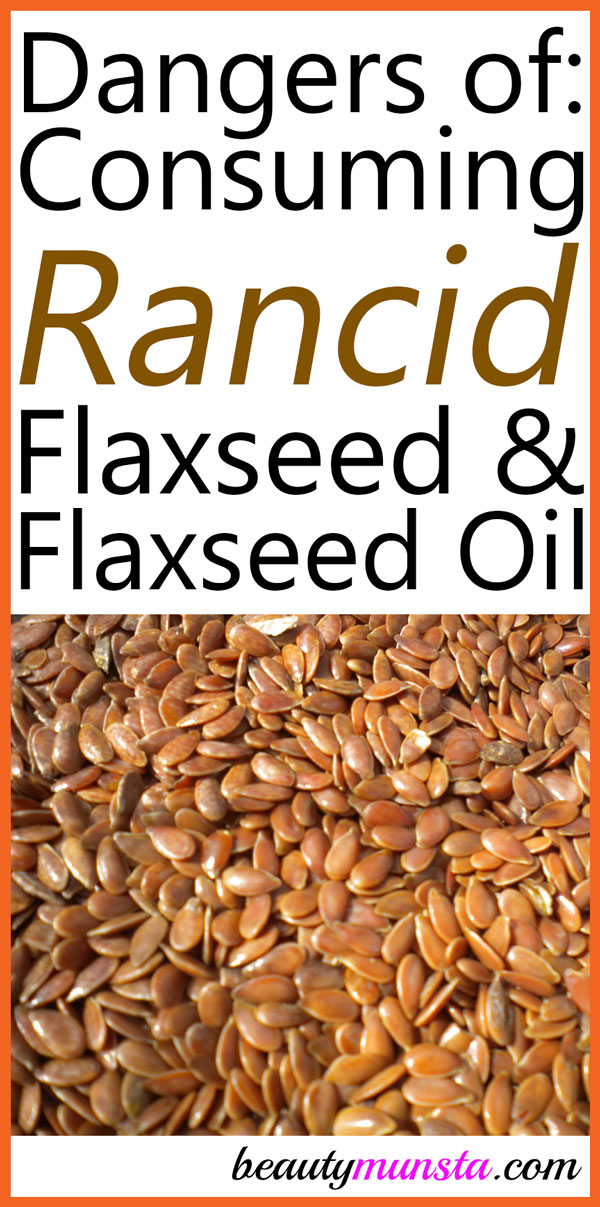 Flaxseed is a powerful super food. Tons of research has been done proving how good flaxseeds are for your health.
They are a rich source of omega 3 fatty acids, fiber, unique antioxidants called 'lignans', vitamins, minerals and other nutrients.
Flaxseed should never be eaten if it has gone rancid. The dangers of eating rancid flaxseed are not to be shrugged aside.
In this article, we shall also be covering the dangers of eating even fresh flaxseed, because this can be problematic for some people too.
What Are The Dangers of Eating Rancid Flaxseed?
It's too bad that many people are actually eating rancid flaxseed every day. Out of all the seeds that we commonly consume, flaxseed is the one that goes bad the quickest. This is because flaxseed contains a very large amount of fatty acid content, that is, the oils within the seed. It's not the seed that goes bad, but rather the oils in it.
When you eat rancid flaxseed, it harms your body. Rancid oil will be full of free radicals, which are rogue molecules that bombard and destroy your healthy cells. This increases the oxidative stress in the body and causes premature aging, weakens the immune system, slows down wound healing, among others.
The number one sign that your flaxseed has gone rancid is that it will smell rancid. This is a stale odor, that smells a little 'off' compared to when you first bought the flaxseed. Whole flaxseed lasts for up to a year if stored properly, while ground flaxseed lasts up to 6 months if stored in the refrigerator. If your flax is older than that, chances are that it's gone rancid and you need to throw it out.
Too Much Fiber in Flaxseed
Rancid or not, flaxseed just does not sit well with some people. This is because flax contains an exceptionally high fiber content, which can actually upset people with digestive disorders such as Irritable Bowel Syndrome (IBS), Crohn's and heart burn/GERD.
To avoid such problems, it is best to start out with small portions of flaxseed and see how you react to it. If you notice too much gas or bloating, then it could be the fiber causing it and you need to avoid flaxseed.
Phytoestrogens in Flaxseed
Flaxseed are actually rich in lignans, which are a type of phytoestrogen that can be harmful to certain persons. The phytoestrogens in flaxseed mimic the estrogen hormone in the human body. They can affect the levels of estrogen in the body by influencing the production and breakdown of the hormone.
Although studies on this subject have been inconclusive so far, it is best for people suffering from or at risk of ovarian, uterian and breast cancers should stay away from flaxseed. Those suffering from endomertrisis or PCOS should also stay away from flaxseed as these are estrogen-related disorders. Pregnant and breastfeeding mothers may also keep their flaxseed intake to a minimum to avoid developmental abnormalities and the risk of cancer susceptibility in off-spring.