What are the beauty benefits of magnesium in the body? Find out here!

Magnesium for Skin Care and More
Magnesium is an important mineral in the body, playing a vital role in almost every single bodily function to keep us alive.
Not surprisingly, thanks to our sedentary yet stressful lifestyles and poor nutrition, many people today are magnesium-deficient.
Magnesium is needed for proper cardiac health, regulating blood pressure and blood sugar, bone health and more.
The symptoms of magnesium deficiency leads to heart issues, bone loss, muscle cramping, frequent headaches and even increased body odor.
5 Beauty Benefits of Magnesium
Aside from the significant health benefits, did you know that magnesium contributes greatly to your beauty and appearance?
Here are some of the beauty benefits of magnesium: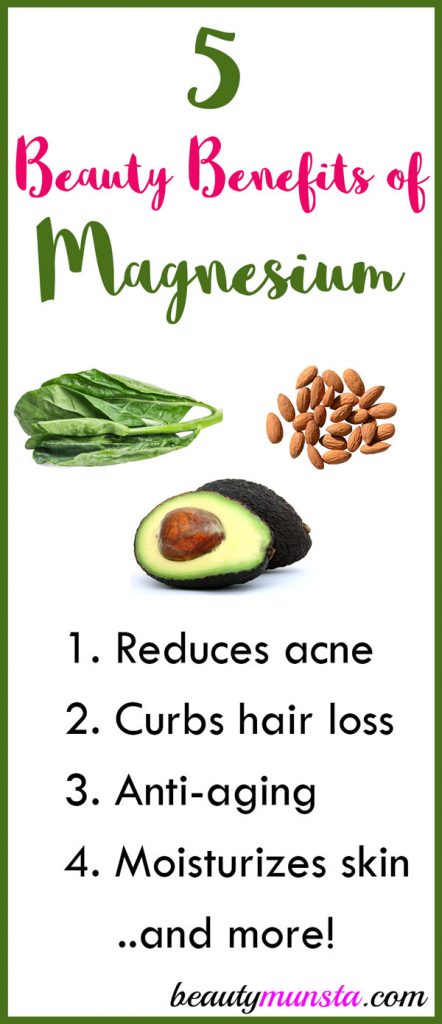 1. Reduces Acne and Pimples:
If you want a clear, even skin tone, invest in a good quality magnesium lotion or cream. For those suffering with acne and pimples, transdermal application of magnesium via creams and oils does wonders.
2. Anti-Aging Properties:
Magnesium is a powerful antioxidant. It helps fight off the damages of free radicals which stress the body and cause premature wrinkles and fine lines. It helps in repairing skin cells properly and maintaining the elasticity of the skin to give a youthful look.
3. Heals Skin Inflammation:
Inflammation is the cause for various skin conditions including acne, skin allergies, eczema and psoriasis. Magnesium reduces the effects of excess proteins that create inflammation in the skin, thus reducing all sorts of skin allergies and conditions.
4. Moisturizes the Skin
Suffering from dry, flaky skin? Magnesium helps! This nifty mineral plays a role in regulating fatty acid levels in the skin. This helps keep the skin perfectly moisturized to prevent any dryness.
5. Curbs Hair Loss
Magnesium deficiency has been found to be a culprit in hair loss. If you want to stall excessive hair loss, definitely look into adding more magnesium in your diet. Increase in magnesium-rich foods in your diet will help promote faster hair growth, strengthen hair roots and prevent hair loss.
Food Sources of Magnesium
Make sure you include a lot of magnesium-rich foods in your daily diet. Some of the best food sources of magnesium include dark leafy greens like kale and spinach; nuts such as pecans and almonds, and seeds such as watermelon seeds and pumpkin seeds.
Best Magnesium Supplement
With our busy lifestyles, it's not always easy to ensure that you are eating enough magnesium-rich foods on a daily basis. That's why it's better to invest in a good quality magnesium supplement. You can buy Doctor's Best High Absorption Magnesium Glycinate Lysinate. It's a very good magnesium supplement that is trusted and popular!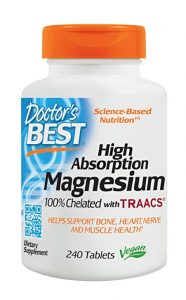 What beauty benefits of magnesium have you experienced in your life?!