There are many beauty benefits of ginger that can be obtained by drinking ginger tea, using it as a scrub and more!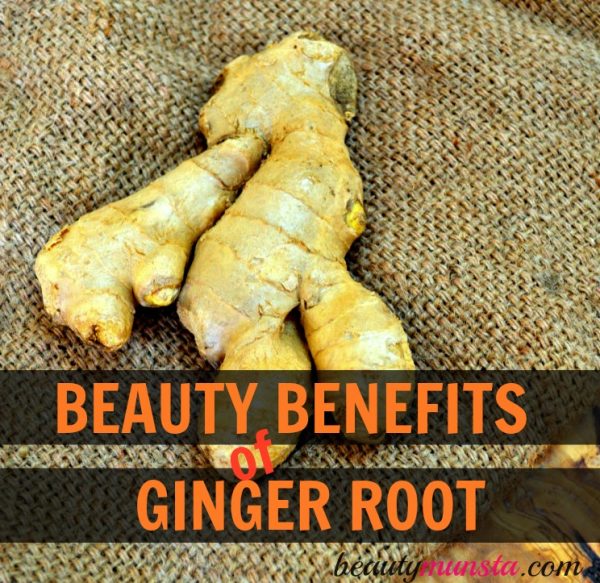 Ginger is a gem when it comes to boosting natural beauty. It's got anti-fungal, antiseptic, antibacterial, antioxidant and anti-inflammatory properties. For over 5000 years, ginger root has been used in Ancient Chinese and Ayurvedic folk medicine to heal all kinds of sicknesses including skin and hair ailments. You need to start using this invigorating spice in your beauty regimen too!
Let's delve into 11 beauty benefits of ginger!
11 Beauty Benefits of Ginger for Skin, Hair & More
1. Lightens Blemishes, Acne Scars, Age Spots and Dark Marks
Gingerol, a vital antioxidant in ginger not only fights off skin cell damaging free radicals but also helps diminish blemishes, acne scars, dark marks and age spots. Blend a small piece of ginger with an ice cube or two. Apply this mixture onto your face to lighten blemishes. Store the excess in the refrigerator for up to a week.
2. Improves Skin Complexion
Applying ginger slices has been said to improve skin complexion by skin toning, pore-tightening, and evening out discolorations. Apply ginger juice mixed with honey onto your face for a beautiful skin complexion.
3. Treats Inflammatory Skin Conditions
The anti-inflammatory properties in ginger calms puffiness, soothes inflamed skin and promotes proper blood circulation to the skin. A ginger bath or steam has proved to be effective in treating eczema. A few drops of ginger oil massaged together with one teaspoon of olive oil can soothe eczema and other skin inflammatory conditions.
4. Fights Acne
When it comes to fighting and preventing acne, ginger works in two ways: internally and topically. Ginger contains antiseptic and anti-inflammatory properties that reduce existing acne ward off more acne. Add a small slice of ginger to your green smoothies to benefit from the anti acne benefits of ginger. To apply topically, extract ginger juice, mix it with raw honey and apply it to your face. Caution: Don't use a lot of ginger juice just 1/2 tsp as it can burn/sting your acne!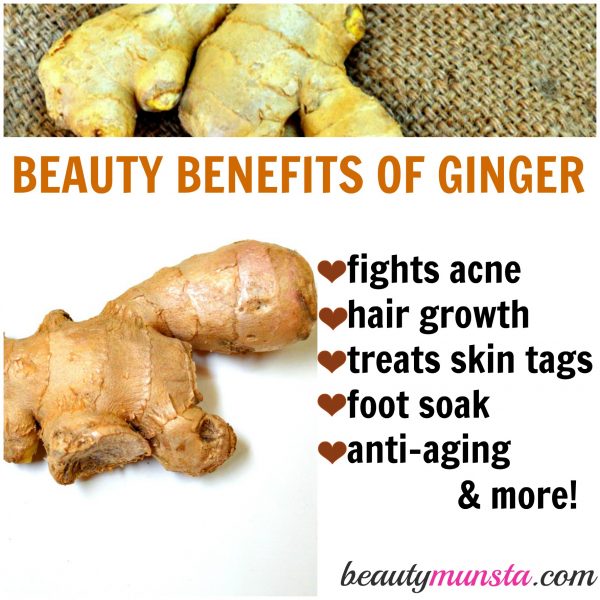 5. Treats Hypopigmentation
Hypopigmentation are white spots or areas of skin that have a lighter color than one's natural skin color. Ginger is said to treat hypopigmentation and gives visible results with consistent application. Cut a small piece off a ginger root, peel and blend. Mix the ginger puree with honey and apply it on your hypopigmentation for about 20 minutes. Remember to do this twice a day without fail to see visible results.
6. For Hair Growth
Ginger boosts blood flow to the scalp and hair follicles, which stimulates hair growth. Ginger is being used in many hair products due to its active compounds such as volatile oils and antioxidants. Steep 1 teaspoon of grated ginger in one and half cups filtered hot water. Leave the infusion to cool before storing it in a spritz bottle. Spray this onto your scalp before a shower to stimulate hair growth.
7. Treats Dandruff
Ginger contains antiseptic properties that fight off dandruff, which is actually caused by fungi. It also contains strong anti-inflammatory properties that soothe scalp inflammation and infections due to severe dandruff. Spritz ginger water onto your scalp to ward off dandruff.
8. Skin Exfoliation
Grated ginger can be the main ingredient in face and body scrubs. It has a mild gritty texture which enables it to scrounge off dead cells, excess sebum, dirt, germs and grime from deep inside skin pores. Mix 1 teaspoon grated ginger with 1 tablespoon of honey and use it to exfoliate your face. Leave it on for 5-10 minutes. Rinse off with cool water.
9. Detox Foot Soak for Beautiful Feet
A detox foot soak can get you sweating to release toxins from your body. A ginger foot soak helps in increasing perspiration, thereby enabling the skin to cleanse itself by driving out toxins, dirt, excess sebum and dead cells from deep within the pores. It also soothes tired feet, relieve arthritic pain and promote blood circulation. To make a ginger foot soak, steep 1 small grated ginger root or 1 teaspoon powdered ginger root in 1 liter of hot water. Pour that ginger infusion into a basin where you will soak your feet. Remember the hot water should only be as hot as you can handle.
10. Get Rid of Skin Tags
According to the National Institutes of Health, almost half of the population of the US is afflicted with skin tags. Skin tags, though not a health hazard, are unsightly pieces of tissue that form outside your skin in any part of the body. To naturally remove a skin tag, rub a small slice of fresh ginger on it several times a day. Be consistent and the skin tag will surely fall off within 2 to 3 weeks.
11. Anti-Aging Beauty Benefits of Ginger
Ginger contains about 40 antioxidants including vitamin C, curcumin and farnesol, which all exhibit anti aging benefits to skin. These antioxidants protect skin cells from free radicals which cause fine lines and wrinkles. Sip a steaming mug of ginger tea regularly to get the amazing anti aging beauty benefits of ginger.