Age spots are skin discolorations we definitely do NOT look forward to as we age. Thankfully, there exist some fantastic natural remedies for age spots that you can use to fade them away!
Age spots are also known as liver spots and they appear on the face, hands, shoulders and other areas. They normally appear on old people but they can start appearing at a younger age.
They are harmless but do mar a flawless appearance so people want them gone fast. Fortunately, there are some great natural remedies for age spots that can help you get rid of them in a safer and chemical-free way!
10 Natural Remedies for Age Spots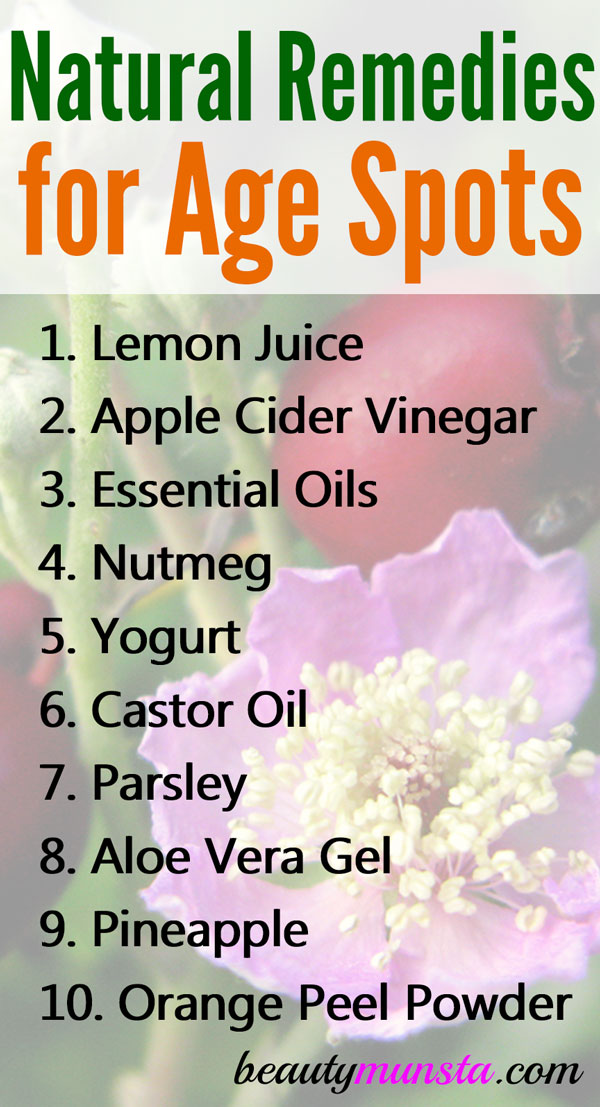 1. Lemon Juice
Lemon juice is a pretty nifty trick for skin lightening though you must use it consistently. It's also a bit harsh if used straight up on your skin so make sure to dilute it with water or another base ingredient before use. It works because it is rich in citric acid that has natural bleaching properties.
Lemon Juice Toner: Squeeze out half a lemon into a bowl then add 2 tbsp of water. Now get a cotton ball, dip it into the mixture and dab onto your clean face. Let it dry completely then rinse off with cool water and apply moisturizer.
2. Apple Cider Vinegar
Apple cider vinegar is just like lemon when it comes to getting rid of age spots. Several people use it full-strength to see results but if this is too harsh for you, then please go ahead and dilute it with water. Don't forget to only purchase organic apple cider vinegar 'with the mother.'
Apple Cider Vinegar Treatment: Place apple cider vinegar on a cotton ball and apply on your age spots. Leave it on for 10 minutes and do it twice a day. You should see the spots fading within 2 weeks.
3. Essential Oils
Essential oils such as lemon, frankincense, lavender and carrot seed are very powerful remedies for age spots. Mix just 2 drops for every tsp of base ingredient such as a carrier oil like jojoba oil or something else like witch hazel or aloe vera gel. They can also be mixed into your moisturizer. Read more: Essential Oils for Liver Spots (Age Spots)
4. Nutmeg
Nutmeg is a spice that is popular for skin whitening and lightening. It is very potent though so use it in moderation. Use a nutmeg mask about three times a week to see results!
Nutmeg Mask: In a bowl, add ¼ tsp of ground nutmeg, 1 tsp honey and 1 tsp thick yogurt. Mix them up and apply the paste on your skin. Leave it on for 7 minutes then rinse off with cold water.
5. Yogurt
Yes, yogurt is another skin lightening remedy good for age spots! It is rich in lactic acid, which is an alpha hydroxyl acid that helps slough off dead cells as well as lighten skin discolorations. Apply thick Greek yogurt on your skin anf leave it on for 10 minutes before washing it off. A yogurt mask can be safely used every day!
6. Castor Oil
Castor oil is a thick sticky oil that has been proven to help skin problems like melasma, hyperpigmentation and age spots as well! You can apply it directly onto your skin, or mix it up with another lighter oil and essential oils as well.
7. Parsley
I recently shared a parsley face mask for blemishes. Parsley is a herb we use to flavor our food but it's surprisingly a good home remedy for reducing blemishes, dark spots and age spots too!
Parsley Face Pack: Get a handful of fresh parsley and pound it into a paste (add a little water if necessary) with a mortar and pestle. If you don't have that, place the fresh parsley together with a few drops of water in a ziplock bag and roll on top with a rolling pin to mash it. Once mashed into a paste, add ½ tsp of honey. Now 'pack' the parsley paste on your affected area then wrap it up with plastic wrap to keep it in place. Rinse off after 20 minutes. You can also try this remedy daily!
8. Aloe Vera Gel
Aloe vera gel is one of the most soothing substances on earth! It has also been reported to have skin lightening qualities to it. Mix it up with skin lightening essential oils like lemon, carrot seed oil or lavender and apply in to your age spots.
Aloe Gel Treatment: Mix ½ cup of pure aloe vera gel with 4 drops lemon oil, 4 drops carrot seed oil, 4 drops lavender oil and 4 drops frankincense oil. Store in an amber container. Smooth a little of the mixture onto your skin 2-3 times a day.
9. Pineapple
Pineapple is just like lemon in that it's rich in alpha hydroxyl acids that dissolve dead skin, revealing fresh clear skin underneath. Apply pineapple juice or puree on your age spots for 10 minutes then rinse off with cold water.
10. Orange Peel Powder
Orange peel powder is quite an exotic skin care ingredient but one thing's for sure – it's really popular for its skin lightening abilities. I've tested it out myself! It is rich in limonene that has skin bleaching and brightening effects. Apply it as a mask or make a scrub with it like so:
Orange Peel Powder Scrub: Combine ¼ cup orange peel powder, 2 tbsp fine white sugar and enough honey to form a nice scrub. Massage it gently onto damp skin where your age spots are. Use frequently in the shower!
Which of these natural remedies for age spots are you interested in trying? Share below!