Many swear by using egg white for face wrinkles and fine lines but here's the science behind why it works. But is it a long term solution?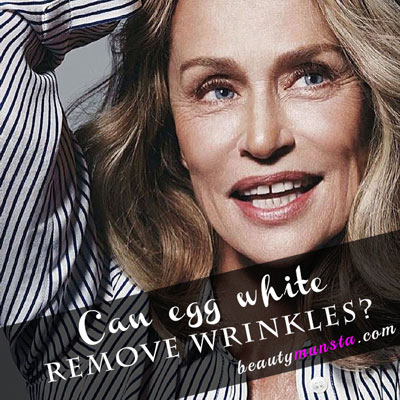 Wrinkles on the Face
Wrinkles are a fact of life that we must face. As we grow older, our hair turns grey, wrinkles and fine lines begin appearing on our body.
The first part wrinkles begin appearing on is actually our hands. Age lines then start appearing on the face – around the eyes, mouth and forehead. The neck then follows suit, and before you know it one too many wrinkles appear and instantly transform you into an oldie. Sigh.
Luckily, you don't have to go "under-the-knife" to keep looking young! You can prevent wrinkles with natural remedies, like egg white, which are popularly known to reduce the appearance of wrinkles.

Why Egg White Reduces Wrinkles
But what makes egg whites for face wrinkles so effective? Well, raw egg white is actually composed of a couple of nutrients that help firm, tone and tighten the skin. Some of the healing properties in egg white for face wrinkles include:
1. Antioxidant compounds: Egg whites contain anti-inflammatory compounds like riboflavin , which play a massive role in preventing cellular damage and repairing and healing damaged skin cells. These antioxidant compounds help to fight free radical damage in the skin and reduce oxidative damage in the skin cells. They ultimately help in preventing premature aging and wrinkle formation.
2. Anti-inflammatory compounds: Egg whites are rich in anti-inflammatory compounds which help reduce inflammation, swelling, redness and irritation on the skin. They can also help reduce puffiness of the skin and under eye bags.
3. Proteins: Egg whites are rich in a variety of proteins including complete, long chain amino acids, which act on the skin to help regenerate new cells. Protein also helps to perk up the skin and make it more taut.
4. Astringent properties: The main property of egg white that makes it tighten and firm the skin, is without doubt its powerful astringent property. It naturally tightens and makes pores smaller, making the skin appear tighter and tauter. It also gives the effect of smooth skin by evening out wrinkles.
How to Use Egg White for Face Wrinkles
The best way to use egg white for face wrinkles is to apply it on your face. You can do so in 2 ways:
Using a face mask
Prepare a face mask using egg white and other natural astringent, antiaging ingredients, such as lemon juice, yogurt and raw honey. Check out this Homemade Face Mask to Tighten Skin & Smooth Wrinkles
Use an anti-aging product contain egg extract
There are many anti-aging products, which have egg extract in them for wrinkle minimizing effects. Recently celebrity dermatologist, Dr. Nicolas Perricone, came up with an anti-aging product called OVM, which actually contains egg shell membrane. He claims the product, containing egg extract, "is the ideal substance to use in a skincare product because it is a powerful anti-inflammatory that also supplies nutrients and growth factors known to prevent and treat the aging process. OVM helps to reduce the appearance dry, fine lines, wrinkles, and pores."
Can Egg White Reverse Wrinkles Forever?
When you use egg white on your face, as a face mask, you will notice your skin visibly tighter, smoother and firmer.
But these effects are only temporary. They may last only a day or two at best. Sadly, egg white for face wrinkles treatment is not a permanent solution.
However, you can use egg white on your face just before an event, party or gathering, for example. Your face will look younger and more youthful that day. Your makeup will also have a better finish and look.
You can also use egg white as a weekly or twice-weekly maintenance treatment. This will nourish and feed your skin and slow down signs of aging.
Other Ways to Prevent Wrinkles
Remember that wrinkles are a natural part of aging and the best we can do is to accept them and "age gracefully".
Thankfully, there are so many things that you can do to slow down the signs of aging. These include:
Drinking plenty of water and staying hydrated
Eat lots of alkaline fruits and vegetables
Cut down on caffeine
Quit smoking and alcohol
Avoid sleeping with makeup on
Avoid harsh skin care products
Always moisturize your face to prevent wrinkles from appearing
Eat a healthy skin-supporting diet rich in sea fish, nuts and greens