Here's a banana egg and olive oil hair mask you should try out for beautiful hair!
Looking for a homemade DIY hair growth formula? No need to go searching high and low for any 'exotic' hair growth ingredients. Simply go snatch a ripe banana from the fruit bowl, an egg from the fridge and extra virgin olive oil from your kitchen cabinet. And you're set to make your very own scalp nourishing hair mask!
But let's first delve into the benefits that each of these kitchen staples provide for fabulous hair:
Bananas – Bananas are ultra moisturizing when it comes to hair. They contain about 75% water which preserves moisture into dry hair cells. Hydrating your scalp keeps off a variety of hair troubles including dandruff, itch scalp, dryness and oiliness. Bananas are also rich in b-vitamins and other potent antioxidants that wards off free radicals from your hair follicles.
Egg – Eggs are mega rich in protein, sulfur and multivitamins, which are all super good for maintaining luscious hair. One large egg alone contains a lot of protein- about 6.3 grams! Protein nourishes hair follicles like never before, stimulating hair growth and adding a natural shine to your tresses. In addition, eggs strengthen your hair follicles, enhance hair resistance to breakage and thicken thinning hair.
Olive oil – Rich in vitamin E, anti-oxidants and essential fatty acids, olive oil offers nutritive benefits for luscious hair. It is also an emollient which locks moisture into hair cells, keeping your tresses hydrated. Olive oil is excellent for dry and frizzy hair and is also good for combination hair.
How to Make a Banana Egg and Olive Oil Hair Mask
Note: The ingredient measurement for this hair mask is for shoulder length hair. Please feel free to adjust it to suit your hair length and thickness!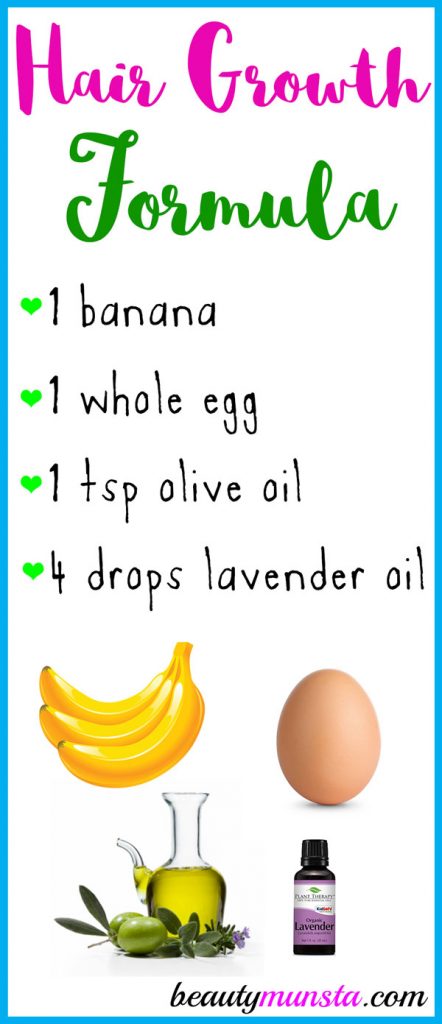 Ingredients
Directions
Toss all the above ingredients into your blender or food processor.
Blend away until you get a thick consistency.
Pour the hair mask mixture into a bowl. Get ready for the application!
How to Apply the Banana Egg and Olive Oil Hair Mask
Wet your hair to start applying the mask. Massage it onto your scalp and hair strands. Cover your hair with a plastic shower cap to prevent any hair mask drips. Leave the hair mask on for about 10-15 minutes. When the time is up, rinse your hair thoroughly with tepid water. Wring and wrap your hair in a fluffy towel.
My Tips
Make and apply this hair mask right before a shower so you can prevent any messy drips. It will also help you wash off the hair mask more efficiently.
Do NOT use hot water to rinse out the hair mask. This will actually cook the eggs and you'll be left with cooked bits of egg stuck in your hair!
Rinse and rinse your hair thoroughly until you're sure all of the hair mask is completely off.
The smell of the hair mask might not be too bad but in case you need it, you may use an organic non-sulfate shampoo.
Where to Get a Natural Shampoo
If you are going chemical-free on your hair, but want to save the time of making a homemade shampoo, this Maple Holistics Sage Shampoo is a game-changer.
Other Hair Growth Hacks