Remember when we learned how to make DIY papaya body lotion? Well, it's about time we covered the beauty benefits of papaya seed oil in-depth. See what this intense healing oil can do for your skin, hair and body!
It's surprising that few people know about papaya seed oil! It truly is a beauty secret that nobody even knows exists. When you learn about the exquisite and intense properties of papaya seed oil, you won't be able to wait to get your hands on some!
Papaya Seed Oil Profile
♥ Scientific Name:
Carica papaya
♥ Other Names:
Papaya seed oil is also known as paw paw seed oil, papaya oil and carica papaya seed oil.
♥ Origin:
Papaya is native to Mexico and Central America, and is now cultivated in the Carribeans, the Phillipines, some parts of Africa, Australia and other countries.
♥ Color and Smell:
The oil is light yellow and has no scent
♥ Texture:
Papaya oil has a non-greasy, non-oily texture. It is light and easily absorbed.
♥ Shelf Life:
Papaya seed oil has a very stable shelf life compared to other generic oils, such as olive oil. The best period to use it is before 2 years since manufacture. It is still okay to use for 4 years from manufacture.
♥ Comedogenic Rating:
2
Properties of Papaya Seed Oil
Papaya seed has mind-blowing levels of vitamins, particularly vitamins A, B and C. It has incredible antioxidant levels, as well as other properties. Some of these constituents include:
Vitamin A
Vitamin B
Vitamin C
Vitamin E
Papain
Quimiopapain
Alkaloids
Benzyl isothiocyanate
Flavonoids
Oleic acid
Stearic acid
Sterols
Tocopherols
The Unique Compound of Papaya Seed Oil: Papain
While papaya seed oil contains remarkable amounts of vitamins A, B, C and even E, it's interesting to look at the unique compound of papaya seed oil: papain.
Papain is found in large quantities within papaya oil. It is a powerful enzyme that is primarily known to breakdown proteins in digestion. Other benefits of papain include treating alimentary disorders such as bloating and diarrhea, treating shingles, reducing inflammatory diseases in the body and killing parasitic worms.
For the skin, papain offers a wide variety of benefits. It is a potent medicine for treating skin disorders such as psoriasis. It also has powerful anti-inflammatory properties that reduce puffiness, swelling and edema in the skin.
Papain's anti-bacterial, anti-fungal and anti-microbial properties help eliminate acne, pimples and blackheads on the skin.
7 Beauty Benefits of Papaya Seed Oil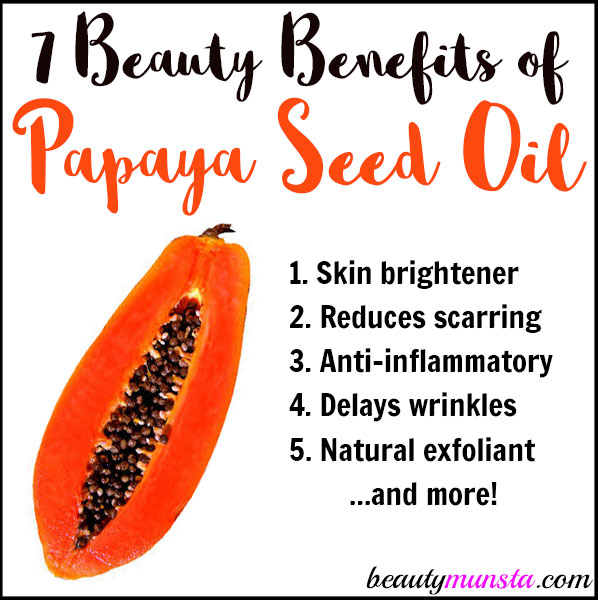 1.Wash Your Skin With Papaya Seed Oil
Washing your skin with an oil is also known as oil cleansing. Papaya seed oil is light and perfect to be mixed with castor oil for an amazing oil cleansing combination.
Mix equal parts of papaya seed oil with equal parts of castor oil and use this to oil cleanse your face. To wash your face with this oil mix, simply massage it onto your face using the tips of your fingers. Now run a small soft microfiber cloth under hot-warm water and squeeze. Place the microfiber cloth over your face and allow the heat to open up your pores. Now wipe off the oil and repeat the process 2 – 3 times until your skin feels squeaky clean!
2. Natural Exfoliant
The unique enzymes found in papaya seed oil make it a perfect gentle exfoliant for your face. Components like papain break down dead cells and hardened oils and grime within your pores. This reveals fresh, youthful and soft skin underneath, making your face look smooth, supple and beautiful.
For a weekly face exfoliation routine, mix 1 teaspoon of baking soda with ½ teaspoon of papaya seed oil. Now rub this onto your face with your fingers or a clean, soft bristled toothbrush. Leave it on your face for at least 2 minutes. Now wash off with warm water and behold your super-soft, bright skin!
3. Reduces Hyperpigmentation
Some people suffer from hyperpigmentation or uneven skin tone. On the face, hyperpigmentation manifests as a dark forehead, dark cheeks or dark areas around the mouth. On the body, hyperpigmentation can be seen as dark knees, dark elbows and dark knuckles.
Papaya seed oil is effective in reducing hyperpigmentation in all areas of the body. Use 1 – 2 times on your skin directly, or by mixing with essential oils such as carrot seed oil, which also help fight hyperpigmentation. To make a quick hyperpigmentation body oil, simply mix 1/2 cup of papaya seed oil with 8 drops of carrot seed oil and 5 drops of geranium oil in a 4 oz amber glass dropper bottle. Use a glass bottle because essential oils tend to break down plastic jars over time.
4. Skin Brightener
Papaya seed oil helps to natural brighten the skin tone. It is also a powerful aid for lightening the skin. Tans can easily be reduced with papaya seed oil. If you have dull, gray and lifeless skin, perk it up with papaya seed oil!
5. Fight Acne
As you saw earlier, papaya seed oil has a very low comedogenic rating. Combined with its other traits such as anti-inflammatory properties, scar-reducing properties and skin brightening properties, this makes papaya seed oil a perfect ally for fighting acne. You can also use it for fighting pimples, blackheads, whiteheads and other infections of the pores.
In a 4 oz amber glass dropper bottle, mix ½ cup of papaya seed oil with 10 drops of tea tree oil, 10 drops of roman chamomile oil and 5 drops of geranium oil. Apply this oil as a spot treatment for acne or zits every few hours.
6. Reduce Scarring
All sorts of scars including burn marks, acne/pimple scars, wound scars and others can be lightened and reduced with papaya seed oil. This is due to its large quantities of vitamins A, C and E, which are specialized in scar removal.
Apply 1 teaspoon papaya seed oil mixed with 5 drops of lemon grass essential oil to scar areas, as well as stretch mark areas. This will stimulate circulation to the skin and promote the faster healing of damaged skin.
7. Anti-inflammatory
The anti-inflammatory properties of papaya seed oil are important for skin care. Papaya oil can reduce redness, swelling and pain in the skin caused by stretching skin. Apply papaya seed oil on giant pimples to quickly reduce their size and redness.
When to Apply Papaya Seed Oil
It's important to note that the best time to apply papaya seed oil is at night. During the night, our skin undergoes repair and restoration as our body rests. This is the best time to supply our skin with healing nourishments like papaya oil to help with regeneration.
Remember, papaya oil is a skin brightener and natural exfoliant so do not step out in direct sunlight within one hour of application. Direct sun exposure to freshly exfoliated skin increases the chances of sun damage.
Where to Buy Papaya Seed Oil
Make sure to buy 100% pure all natural papaya seed oil, without any additives. My recommended brand is Botanical Beauty's Pure Unrefined Cold-Pressed Papaya Seed Oil that comes in a 4 fl.oz bottle.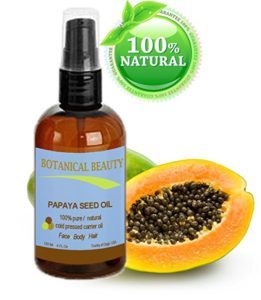 I hope you enjoyed the beauty benefits of papaya seed oil, and I hope I was able to show you how truly beneficial it is for the skin!