When many of us hear the word seaweed, we think of tangled clumps that wash up on the shores of beaches. It even stinks! But seaweed is actually a secret to beauty! Asian people have been consuming seaweed for centuries and they are among the healthiest people and many have flawless porcelain skin.
In this article, discover 10 amazing beauty benefits of seaweed powder! What makes seaweed so special? Let's look at some of the nutrients it has:
Nutrients in Seaweed for Skin
Vitamin C – This is a great vitamin for skin. It boosts collagen production which promotes skin elasticity and youthful skin.
Potassium – Potassium is needed for proper hydration of the body including skin.
Iron – Promotes circulation of blood throughout the body. Boosts hair growth and provides skin with abundant oxygen-rich blood which makes it healthy and supple.
Niacin – Fades facial scars. Brightens skin complexion.
Choline – Helps reduce oily skin. Soothes skin irritation and revitalizes mature skin.
So how do you use seaweed for skin? Do you eat it or put it on your skin/hair? Answer: You do both! Enjoy seaweed in food (you can make sushi or use the powder in your smoothies) and slather it as a mask on your body!
You can get seaweed powder here.
10 Beauty Benefits of Seaweed Powder for Skin, Hair and More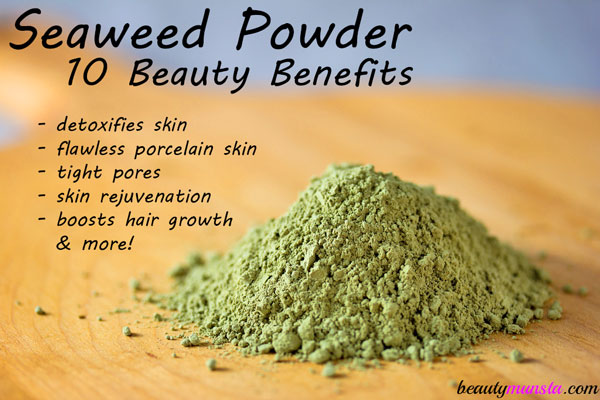 1. Detoxifies Skin
Seaweed is a powerful detoxifying ingredient. It pulls out toxins from deep within the skin pores which helps with many skin ailments caused by toxin buildup including cellulite.
✾ Detox Body Wrap for Cellulite & Weight Loss: In 3 cups of warm water, mix 1 cup of seaweed powder, ½ cup of Epsom salts, 1 cup bentonite clay, 2 tsp of dried powdered ginger. Apply the thick paste all over your body, wrapping thin cotton cloths reasonably tightly on top. Once that's done, wrap cling film over the cotton cloths. Now lie down in flat clean area and place a wool blanket over your body. Be in that position for one hour. Then remove the wraps and take a hot and cold shower to open pores and stimulate circulation. You might want to measure yourself before and after the wrap to see how many inches you've lost!
2. Deeply Nourishes Skin
Since it's filled to the brim with nutrients, seaweed is extra nourishing to the skin. It feeds skin with healing nutrients that make it healthy and beautiful.
✾ Nourishing Face Mask: In a small bowl, mix up 1 tsp of seaweed powder, 2 tsp of aloe vera gel and 2 drops of geranium oil. Now slather this on your clean face and let it penetrate for about 10 minutes. Then rinse off well with warm water first then cold water to close pores. Do this just once a week and not more because it is so potent.
3. Reduces Oily Skin
Seaweed has a balancing effect on skin. It helps regulate sebum production which reduces oily skin. Make a seaweed scrub by combining seaweed powder with enough water. Scrub it on your face and rinse off with cool water.
4. Promotes Youthful Wrinkle-Free Skin
Want flawless porcelain skin? It's time to use some seaweed on your face! Seaweed is rich in antioxidants that protect skin from free radicals and prevent premature wrinkles and fine lines.
✾ Anti-Aging Treatment: Mix up 1 tsp of seaweed powder in 1 tsp of raw honey then add 2 drops of lavender oil to it. Apply this gently all over your face. Wash off with tepid water after 5 minutes. Behold smooth and supple skin! Try this once a week.
5. Boosts Hair Growth
Seaweed is powerful for hair growth! A study carried out at a Korean University found that seaweed has hair-growth promoting abilities that could be very beneficial in helping treat baldness and thinning hair. Eat seaweed regularly to gain the nutritious minerals that will boost hair growth and strengthen existing hairs. You can take seaweed supplements/capsules instead of having to cook seaweed – this is so much easier and more palatable!
6. Helps Eczema
Soothe and heal dry itchy eczema patches with seaweed powder, which has nutritious benefits and moisturizing qualities. It also speeds up cell regeneration and healing of wounds. Make a soothing bath as follows:
✾ Soothing Bath: To warm running bath water, add 1 cup of seaweed power and 2 cups of colloidal oatmeal. Sink in a soak for at least 15 minutes.
7. Unclogs Blocked Pores
Always breaking out in small pus-filled pimples? You might have congested skin! Use a seaweed scrub to soak up impurities from within your pores.
✾ Seaweed Scrub: In a small bowl, mix up 1 tsp seaweed powder, 1 tsp brown sugar and 2 tsp coconut oil. Gently scrub this onto your face in circular motions then rinse off with warm water. Splash your face with cold water to seal the pores. Also use these skin purifying seaweed facial mask sheets to unclog your pores and beautify skin!
8. Treats Acne
Good for reducing inflammation and redness, seaweed also helps treat acne. It also reduces greasy skin and drives out dirt, grime, excess oils and pollution.
✾ Acne Treatment: Dump in 1 tsp of seaweed powder in a bowl. Add 1 tsp of raw honey and 4 drops of tea tree oil. Mix well to form a paste then gently apply on your skin. Wait for 10 minutes then rinse off with warm water first then cold water. Pat your face dry. Do this mask twice a week.
9. Rejuvenates Skin
Applying seaweed powder on skin as a nourishing mask, rejuvenates and repairs it. The niacin content in seaweed is said to help with brightening the complexion and fading dark spots on skin.
✾ Glowing Skin Seaweed Sheets: In a small bowl, mix 1 egg white (separate the yolk) and ½ tsp olive oil. Now add about 3 drops of lemon oil. Whisk well with a fork to combine. Brush this mixture on your face and neck then tear up these seaweed sheets, soften them under warm water and stick them on top of the egg white/olive oil mixture. Leave it on for 20 minutes then peel off the sheets and wash your face in warm water first then cold water. Marvel at your glowing skin!
10. Moisturizes Dry Skin
As a natural humectant, seaweed absorbs moisture from the surroundings and locks it into the epidermis (upper layer) of skin. This keeps skin well hydrated and looking supple! Do a seaweed bath to benefit from its moisturizing properties.
✾ Mermaid's Bath: Run a warm bath and while the water is pouring, add 1 cup of Epsom salts, 1 cup of seaweed powder and 25-30 drops of geranium oil. Soak in there for as long as you like to nourish your skin and get beautiful skin like a mermaid's!
Where to Buy Seaweed Powder
Get organic high quality sea weed powder here. If you want seaweed capsules for internal consumption, you can get them here.