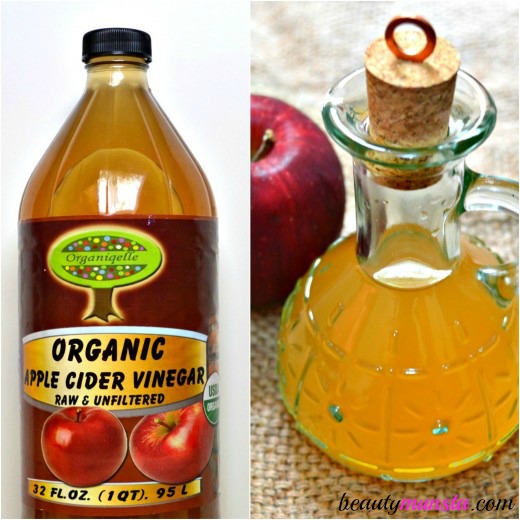 ACV: The Ancient Miracle Cure
The history of the medicinal use of apple cider vinegar dates as far back as 1000 years ago. Ancient Egyptians, Phoenicians, Persians, Babylonians, Japanese Samurai, Greeks, Romans and other ancient people used apple cider vinegar as a cure for every known ailment including, digestive problems, mushroom poisoning, dandruff, toothaches, among others. Ancient Persians drank it diluted to prevent unnecessary weight gain, Japanese Samurai were said to have drunk it for power and stamina and it was used to treat wounds on the battle fields in World War 1.
Note: Ensure to get raw and organic apple cider vinegar with the 'mother' and avoid the synthetic red version found at the stores.
ACV for Beauty and Health
ACV is rich in minerals such as potassium, iron, boron, trace elements; active enzyme; organic acids like acetic acid, lactic acid, propionic acid; and pectin-soluble fiber. Potassium helps maintain youthful skin and promotes the flexibility of arteries; iron in ACV helps in production of red blood cells and haemoglobin and also prevents hair fall. Organic acids found in ACV balance the pH of the internal body environment, promote digestion, dissolve fat and help detoxify the body.
ACV for Beautiful Skin
While ancient people used ACV to treat health conditions, it was also used to promote beautiful skin and hair. It has been used in many beauty products to maintain healthy, glowing and flawless skin. It's first use in the beauty department is said to have been in the form of a toner, used by the Romans. Even Cleopatra herself is said to have used ACV to cleanse and purify her skin.
ACV works wonders in promoting healthy glowing skin. Due to its acidic levels, it is known to balance the skin's pH, dissolve dead cells, drive out impurities from beneath skin pores, as well as cleanse off excess sebum that causes oily skin. ACV contains strong antiseptic properties that help destroy acne causing germs, scalp germs, as well as bacterial growth. It also contains alpha hydroxyl acids that are well known to wash off grime, dead cells, excess sebum, dirt and pollution stuck deep with skin pores.
ACV for  Good Health
In Greece, in the times of 400 B.C, Hippocrates treated his patients with ACV and honey, which is known to have cured many ailments. ACV has numerous health benefits, as described by Paul Bragg, N.D.Ph.D, including: promoting youthful skin and vibrant healthy body, helping in removing artery plaque and body toxins, soothes burns, fights germs, bacteria, virus and mold naturally, helps regulate calcium metabolism, banishes ache, athletes foot, fights arthritis, helps digestion, assimilates and balances pH, helps control and normalize body weight, among others.