Coconut milk is so delicious and the best vegan milk in my opinion! What's more is that it is a great beauty product! That's right! You can actually use it as a facial cleanser, makeup remover or better yet, for making shampoo or body wash!
Today's post is going to be about how to make homemade body wash with coconut milk. The end result is a super moisturizing and skin loving foamy body wash that smells great too!
Beauty Benefits of Coconut Milk
Before we look at the recipe, let's first take a look at the beauty benefits of coconut milk:
Softens skin
Removes dirt and grime from skin pores
Reduces inflammation which makes it good for eczema and psoriasis
Nourishes damaged skin
Moisturizes dry skin
If you want to read more beauty benefits of coconut milk, go to this post of mine!
Homemade Body Wash with Coconut Milk
Note: Coconut milk is a perishable commodity so be sure to use this body wash within 3-4 weeks. And preferably, store it in your refrigerator! If you want it to last longer, freeze it in ice-cube trays and thaw 2-3 cubes before use.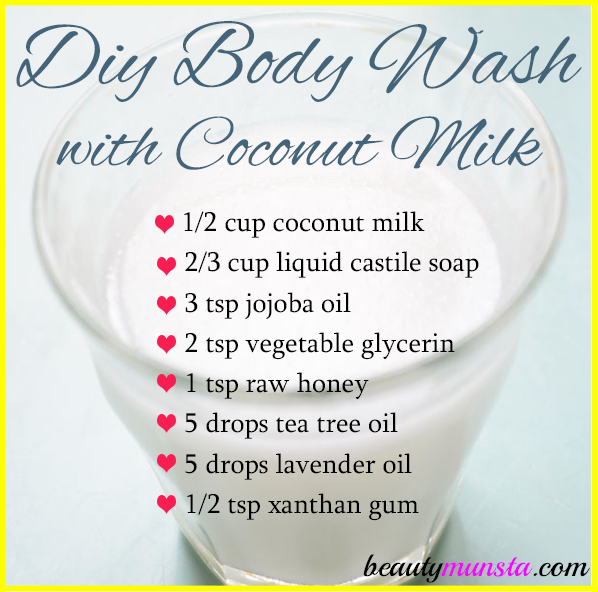 What you need
What Each of the Ingredients Does
Liquid castile soap – A plant-based liquid soap, castile soap foams a lather and is gentle enough to be used on baby's skin. I like Dr.Bronner's Baby Mild unscented soap.
Jojoba oil – It's moisturizing for skin and rich in vitamin E which heals skin.
Vegetable glycerin – This thickens the body wash and gives it a slippery consistency that makes it able to lather well.
Raw honey – A natural preservative, honey prolongs the shelf-life of this body wash. It also deeply nourishes skin and seals in moisture.
Lavender essential oil – Makes the body wash smell pleasant, is antibacterial and soothing for skin.
Tea tree essential oil – Is a powerful disinfectant that wards off germs, treats skin problems and fights off bacteria.
Directions
Measure out the coconut milk and pour it into a flip top bottle using a funnel. Also pour the liquid castile soap.
Now add the raw honey, jojoba oil, vegetable glycerin and xanthan gum, if using.
Finally add the essential oils.
Close the bottle and give it a shake to combine everything together.
To use, pour a suitable amount on a bath sponge and soap up your body!
I can't wait for you to try out this homemade body wash with coconut milk! Come share your results!