Emu oil has a strong fan base of clients who swear by its exceptional anti-aging qualities. Find out how to use emu oil for wrinkles in order to get the best results possible.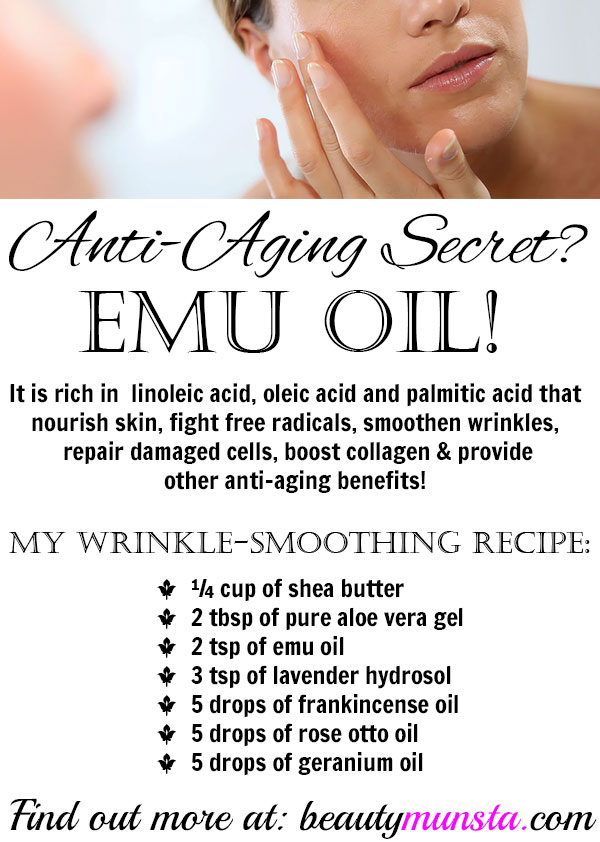 What is Emu Oil?
Emu oil has a special place in the skin care and anti-aging world. It is unique because it is extracted from a bird called the emu. The emu bird is a large bird similar to the ostrich and is farmed and reared for its meat. The fat that surrounds the meat is often harvested and treated to produce the highly revered emu oil.
For centuries, the Australian aboriginals used emu oil to help heal all sorts of skin ailments. From healing burns without scars to being used as sunscreen protection against the harsh desert sun, the benefits of emu oil are nothing short of miraculous.
The consistency of emu oil is naturally creamy, with a semi-solid consistency. It melts easily when applied on the skin.
How Does Emu Oil Help Remove Wrinkles?
The beauty of emu oil is that its composition is very close to human sebum. This makes the skin absorb its goodness very easily.
Emu oil is composed of healing compounds such as linoleic acid, oleic acid and palmitic acid. These compounds give emu oil superior anti-inflammatory qualities, repair cell damage and stimulate the production of collagen, which helps keep skin supple and youthful.
Wrinkles are an unavoidable part of aging. How is it then, that some people age faster than others? How do some people tend to look ageless and forever young?
It all has to do with a number of factors such as good genes, lack of bad habits such as smoking and alcoholism, a good skin care routine and a diet rich in omega 3 and 6 fatty acids.
Keeping all other factors constant, wrinkles and fine lines are also aggravated by chronic dry skin. Emu oil is an amazing emollient and moisturizer that penetrates deep into the skin and keep it hydrated, moisturized and sealed for several hours at a go. This does wonders for preventing wrinkles!
Those with thin skin are also more likely to age faster. Emu oil has been studied and proven to thicken thin skin by up to 2 – 3 times. It also helps to prevent other signs of aging such as skin tags and age spots.
Premature aging is caused by an influx of free radicals which wreak havoc on the skin. Free radicals in the air from pollution, cigarette smoking, drugs and chlorinated water collide into the skin and displace the stability of molecules in healthy skin cells. This causes premature wrinkles, fine lines and even premature balding and graying of hair. Emu oil is rich in antioxidants that help counteract free radicals and reduce oxidative stress.
How to Use Emu Oil for Wrinkles
Now that you know that emu oil actually works to eliminate and prevent wrinkles, how to you go about using it?
My favorite recipe using emu oil is to make a luxurious homemade anti-aging lotion. This lotion is light and fluffy and can be applied on both your facial skin and bodily skin. It's safe to use on acne prone skin.
Here's the recipe for a light and fluffy anti-aging emu lotion:
What you need:
Directions:
In a small blender jar, dump in all the ingredients and blend away!
Blend for at least 2 minutes (depending on your blender) until you get a light, white and fluffy texture.
If you want a thinner lotion, add more lavender hydrosol.
Apply this lotion twice daily, preferably after a shower in the morning and before bed.
Other Benefits of Emu Oil
Here are some other benefits of emu oil that you might find interesting:
Acts as a natural sunscreen: Emu oil has natural SPF qualities that were known centuries ago. The ancient native people of Australia found that slathering emu oil on their skin helped protect them from the harsh desert sun.
Treats cold sores: Cold sores are infectious so they must be treated as fast as possible. Cold sores on the skin and lips can be healed easily with direct application of emu oil.
Heals burns and cuts: First and second degree burns can easily be nursed at home with direct application of emu oil. This will help speed up the healing of the wound and will prevent the formation of scars.
Highly anti-inflammatory: Being rich in anti-inflammatory compounds, emu oil can be used to treat a wide variety of inflammatory conditions on the skin and hair including acne, pimples, rosacea, psoriasis, eczema and dandruff.
Helps relieve joint and muscle pain: Emu oil contains analgesic compounds that work as potent pain relievers. Emu oil can be applied onto joints, sore muscles and sprained ligaments to relieve soreness, pain and swelling.
Where to Get Pure Emu Oil
Always look for 100% pure and organic emu oil. I like Dr. Adorable's 100% Pure Australian Emu Oil