What are the 10 best oils to mix with shea butter? Find out in this post!
Many people want to know what the best oils to mix with shea butter are and which combination works best for different skin/hair types. In this shea butter and oils guide, I'm listing down some of my preferred oils for shea butter and how they work to keep your skin & hair healthy!
Note: Here's where to get raw shea butter from Ghana. However, I prefer the shea butter from East Africa, also known as Shea Butter Nilotica, for its softer consistency and it's slightly nutty scent which is more bearable than the one of West shea butter. You can get Shea Butter Nilotica here.
10 Best Oils to Mix with Shea Butter for Skin & Hair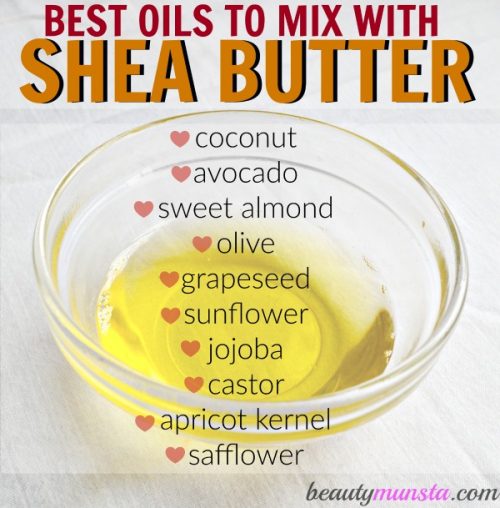 1. Coconut Oil
Coconut oil, derived from the dried meat of coconuts, is native to India, where people used to apply it on their skin and hair for its nourishing and healing properties. It's rich in medium chain fatty triglycerides such as capric, caprylic, stearic and lauric acids that have a small molecular structure and easily penetrate into the skin and hair. These fatty acids protect the skin and moisturize it, keeping it smooth and supple. When mixed with shea butter, coconut oil forms a creamy shea butter and coconut oil mix that's so luxurious when applied to the skin and hair! Check out the recipe of my favorite shea butter and coconut oil mix for skin here!
2. Olive Oil
Popularly used in Mediterranean and Middle Eastern cooking, olive oil is one of the oldest pressed oils known to man. It's extracted from olives and is rich in healing and nourishing fatty acids. Olive oil is also rich in vitamin E, also known as the 'skin protector'. Vitamin E is a powerful antioxidant that protects the skin from free radical damage which causes premature aging.
3. Grapeseed Oil
Grapeseed oil is great to mix with shea butter since it has a light consistency that doesn't leave an oily layer on top of the skin/hair like some thicker oils do. For fine/thin hair and oily/acne prone/combination skin, use grapeseed oil to mix with shea butter. It has a high amount of proanthocyanidins, which makes it especially good for mature/sun damaged skin.
4. Sweet Almond Oil
Sweet almond oil is really effective in treating split ends and damaged hair but it also has a lot of beauty benefits for the skin as well! Since it's rich in Vitamin A and E, it heals sun damaged skin, mature skin and dry skin. It's light consistency makes it one of the best oils to mix with shea butter. I love to mix it in my shea butter hair mixes to fix dull hair.
Wanna know the best essential oils to mix with shea butter? Click here.
5. Avocado Oil
Here's my popular whipped shea butter recipe with avocado oil that is nourishing to both the skin and hair. Avocado oil has a thick texture, making it excellent for natural hair which tends to be dry. It's also good for taming wild frizzy hair by making it soft and manageable. I recommend buying avocado oil from Now Foods for its high quality – I've linked where to buy it in the ingredient profile above.
6. Sunflower Oil
The Cherokee and other Native Americans cultivated sun flower long ago, for its good source of fat/oils especially for hunter gatherers who needed it in their diet. The sunflower was also used for other purposes such as painting bodies, decorating objects as well as making a purple colored dye which was used to dye clothes. Sun flower oil is a rich source of vitamin E, which protects the skin from premature aging and keeps it smooth and supple. It's one of the best oils to mix with shea butter since it has a light consistency. If you want to make a non-greasy lotion/hair cream with shea butter, you can use sunflower oil as the base oil.
7. Jojoba Oil
Jojoba oil is similar to the sebum our skin pores and hair follicles produce so it's great for skin and hair of all types. Just like sun flower oil, jojoba oil was long used by Native American Indians and is extracted from jojoba seeds. It contains mystiric acid, which gives it powerful anti-inflammatory properties. When combined with shea butter, it can be used to moisturize acneic skin as well as soothe psoriasis, eczema and other skin inflammatory properties. It's also nourishing for sensitive scalps and adds a shine to dull natural hair.
8. Apricot Kernel Oil
Apricot kernel oil is another one of the lighter oils which mix well with shea butter. Mixing apricot kernel oil with shea butter creates a creamy mixture which you can slather all over your body for moisturized and supple skin. Apricot kernel oil contains essential fatty acids and vitamins that keep the skin healthy and free from blemishes and premature wrinkles.
9. Castor Oil
Castor oil is very effective for treating hair fall and promoting longer, stronger and thicker hair. You can find my most loved shea butter coconut oil castor oil mix for hair growth here. Castor oil is also good for moisturizing extremely dry and withered skin. When mixed with shea butter, it can be used to promote luscious hair growth and treat scaly dry skin.
10. Safflower Oil
I haven't tried mixing safflower oil with shea butter (yet!) and I haven't really used it in my skin/hair care routine but it's an oil I'd prefer to mix with shea butter because I've heard about its great properties for both skin and hair, plus it's one of the best oils with a thin and light consistency. Many people love mixing safflower oil with shea butter to make a light weight hair mix that works as a perfect sealant. I have to try it out – maybe in winter when my hair gets a bit dry! Safflower oil is rich in an essential fatty acid known as linoleic acid that heals dry skin, soothes sun damaged skin and moisturizes aging skin.
Take Care
Only buy organic and high quality oils for your skin and hair. If you're allergic to any of the oils listed above, please do not use them on your body.
My Favorite Tried & Tested Shea Butter Recipes Ebook
Do you love shea butter and want to make your own beauty products with it?! Check out this ebook "My Favorite Tried & Tested Shea Butter Recipes for Luscious Skin & Hair" for 30 awesome recipes, complete with step-by-step instructions, beautiful pictures and other valuable shea butter info!